t
Winter Fellowship
Camp Stonehaven: February 8 - 10, 2019 . . . more
The First aid Rally is fast approaching! February 2, 2019
Our membership has played a big role in the this event every year and I am urging you to register and come out and help in anyway you can. The specifics are outlined below and in the program guide found at the attached link. Come out for the day, half day or just a few hours. The help is much needed and greatly appreciated.

The First-Aid Rally: is held on the first Saturday of February each year. This event is part training and part competition. The training will be provided by Boy Scouts, adult Scouters, and other qualified First-aiders. This training is designed to cover the skills needed in the afternoon competition. There are separate divisions for the different programs such as Webelos, Boy Scouts, Venture Scouts, and Explorers. All units must provide two-deep leadership for all their participating dens or patrols. See the attached program guide for more information or click here to register: First Aid Rally Registration Page
Your Chance to Help Philmont Get Ready for the 2019 Camping Season
Philmont and the Order of the Arrow are excited to offer OA PhilBreak 2019. This event will consist of a full week's work restoring Philmont's burned and unburned forests. . .more
Unit election time is Here
OA election season is here. Unit elections will run from January 1 through April 30 2019. . .more
Lodge Officers
Contact the Lodge officers online info@oalodge159.org
Vigil Class of 2018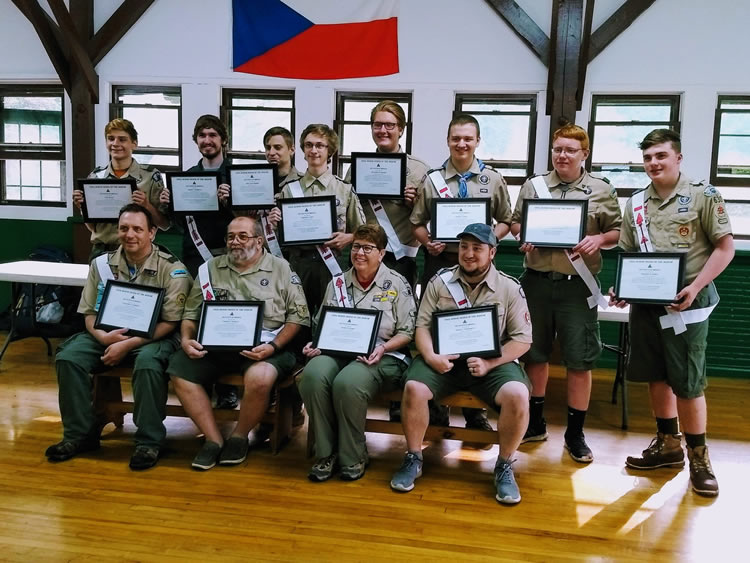 PLEASE NOTE: BSA Health forms A & B are now required to attend!
Sections A and B must be completed! This form must be brought with you to basic Scouting activities such as local tours and weekend camping trips less than 72 hours in duration. Click Here to download Medical Form.

remind
Sign up for important updates from Ho-De-No-Sau-Nee Lodge #159.
Get information for Ho-De-No-Sau-Nee Lodge right on your phone—not on handouts. . . . more
Request for OA Lodge Assistance
Type of Assistance Requested (Be specific, times, dates, type of assistance needed, manpower, etc.) . . . more
Lodge Event Refund Policy
Refunds MAY be available for payments made for Lodge events providing that proper written notification is made to the Adviser of the event or a member of the Lodge Key 3 based upon the following schedule.....more
Ho-De-No-Sau-Nee Lodge's 2009-2010 Where To Go Camping Guide
Nomination of Officers Form
If you have ever considered further service to your Lodge, you can fill out the Nomination of Lodge Officers Form. Please submit the completed form to any Lodge Officer by the February LEC meeting.
Founders Award
Nominations for the Founder's Award must be submitted no later then the December LEC
Vigil Nomination Form
Vigil Nomination Form - Completed forms are due at the May LEC meeting.
Learn More About the OA at the Jumpstart Website


Official web site for Section 3A of the Northeast region

Contact the Lodge officers online
info@oalodge159.org
Dues/Registration Form for 2019 Register Online

All rights reserved. Content copyright © Ho-De-No-Sau-Nee, Lodge #159 2000-2019
Do not copy or reproduce without the express permission of Ho-De-No-Sau-Nee, Lodge #159
Last update: January 13, 2019
For Concerns and Comments Contact: Webmaster